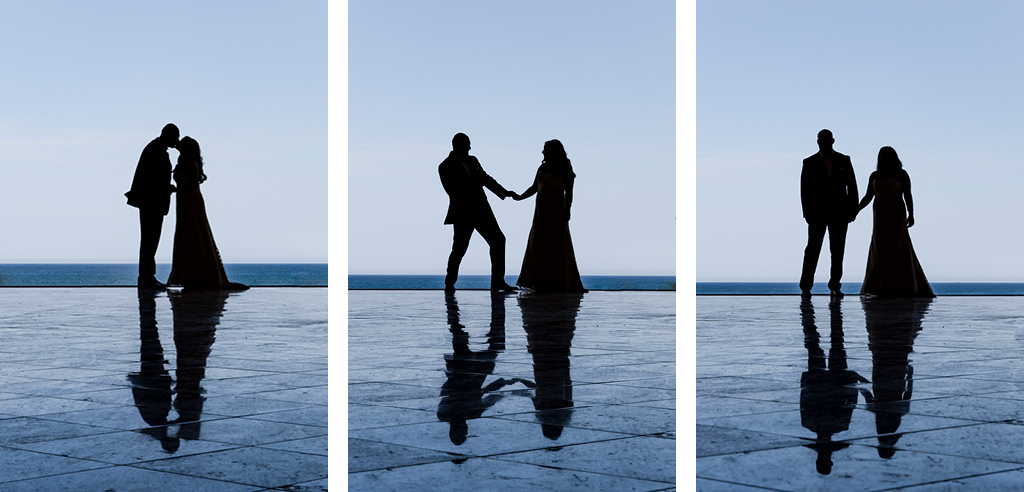 What primary photographic style do you identify with?
I am a photojournalist and fine art photographer; a visual storyteller. When you hire me for your wedding, I spend the day looking for moments and capturing them. Wherever your wedding is, I aim for candid authentic moments that are fun, natural, and timeless.
Will you also take formal bride/groom portraits and family portraits?
Absolutely! Along with all the candid images I'll take, we will also spend a small portion of the day doing more formal posed portrait sessions of the bride and groom, the wedding party, and family portraits. Each couple's needs are different, but we'll discuss this at the time of booking and work on it after booking as you get the timeline of your big day figured out.
What's your personality like?
My personality is fluid; I can be creative and quiet, detail-oriented and technical, or outgoing and comedic. It's been noted by friends, clients, and even strangers that there is an openness to me that makes people around me feel comfortable and grounded. This serves what I do well, particularly because so many people feel shy in front of a camera.
Where are you?
I am based in Hamden, CT with a focus on the New Haven, Fairfield, Litchfield, and Hartford Counties here in Connecticut, but I'll shoot anywhere really. Love Westchester County, New York, Boston, the Berkshire's, Newport and Providence, RI, and anywhere in New England!
Because I grew up in RI and still have family there, I waive overnight fees for weddings between the Providence and Newport, RI areas. I get to visit my family and you still get a "local" photographer.
Do you travel?
Does a duck fly or a fish swim or my dog bark? I'll go wherever you're willing to take me. My travel fees can be discussed at the time of booking, there are certain destinations where I do not charge for accommodations, so please inquire.
Will you charge me for the downtime during my wedding day?
When you book me, you book me for the entire day. The reason for this is because there's never really downtime for your day. "Downtime" means that we're setting up for the next location, thinking about the next shots and lighting situations, changing to fresh batteries, moving gear, and totally dedicating our time to your wedding's photography needs. However, I did stop everything to help set up for the reception after a small disaster at the venue, generally, it's just your photography needs, though. You'll understand when it starts, you blink, and it's over. Savor every minute.
Do you edit your photographs?
Yes, I feel strongly that your investment in me is a sign that you want and expect, something unique and meaningful. That means that your photographs will be culled through and get the attention they deserve to meet my professional standards. Images that don't meet that standard include: out of focus images, closed eyes, bad smiles, weird facial expressions (unless it's awesome), duplicates, people walking through the shot, etc. At the end of this journey, you will receive color corrected images with tonal adjustments to tell the perfect story from your wedding day or portrait session. If you are interested in more extensive retouching, these services are available for an additional fee.
How can we have a successful experience?
I'm so glad you asked, a successful experience starts with teamwork. Creating something that you love is very important to me, making that happen is always the result of good collaboration. That means we need to talk about styling and what you're looking for. It will be painless and I'm happy to help anyone who doesn't know how to navigate that path.
What if you've never been to the venue or location of my wedding?
I do scout the location and do a site walk where the location is within an hour of my home. If a site walk isn't possible, I thoroughly research the location online and arrive extra early on my time.
Are you a member of Professional Photographers of America (PPA)?
Do you have insurance?
Yes, many venues require this and I'm happy to provide a certificate of coverage to your venue of choice.
What kind of equipment do you use and do you have a backup?
I use professional Canon gear and have backup equipment just in case anything happens. Your images are recorded to two separate cards in EACH camera and are backed up to two drives after your event or portrait session. Basically, my backups have backups.
Will you use a second photographer or assistant for my wedding?
If that's the package you choose. I typically use an assistant when I fly solo for smaller, intimate weddings, but I can't be in two places at once and as a result, you will lose some moments. Don't let that make you nervous, an example of this would be, you want all the traditional shots of the bride getting ready, but that means I may not get over to the groom in time to photograph him getting ready unless that kind of time is built into your day. Pro tip: getting ready locations are key, the closer together, the smoother the day. Anyway, I belong to a network of fantastic professional photographers and have worked with the photographers I hire for your wedding. I got you, you hire me for this.
Do we get the digital files?
You absolutely get the digital files, both high-resolution files for printing and files that have been watermarked and appropriately sized for the internet. I do not provide the raw files, they're the modern version of an undeveloped film image, they're unfinished and do not represent my final, edited artistic vision.
Will our images be available to view in an online gallery?
Yes! All of your final images will be available in an online viewing & printing gallery that you decide who to share it with. This gallery will allow your friends and family to select favorites, share their favorites to social media, purchase prints, or to purchase a digital web-sized copy.
How many images can we expect?
Weddings vary, the final number is totally dependent on a number of factors, including the actual length of the wedding; the number of "moments" scheduled to occur (first dance, toasts, traditions observed, etc.); the number of guests, locations, formal posed images, required "detail" shots, and so on. From all the images I shoot, I pick out and edit the images that meet my high standards and that best represent your story. Typically, you can expect about 100 images per hour of shooting.
Will my wedding or portrait session be featured online somewhere?
It could be! Unless of course, you don't want that, there is an option for a non-disclosure agreement when you sign a contract with me.
Can I print my photos?
Each package comes with a personal print release, this allows you to print them anywhere for personal use only. This does not include the ability to edit or alter the final images you receive. I do recommend printing with my preferred lab available through your online viewing gallery, but you have the option to take them elsewhere. Mpix is a printing house catering to the general public that I would recommend for self-printing. I would not recommend any print station located within any store or Shutterfly. Please note that printing with a professional photography lab ensures proper color and the high quality you'd expect with professional prints. See why in the next question.
Why do my professional prints cost more than CVS, Snapfish, or the like?
This is a great question. Professional labs and professional photographers have a symbiotic working relationship. This means that my computer is color calibrated to the labs that I use so that I KNOW my colors will print the way they appear on my screen. I have vetted these vendors based on their reputation of printing high-quality photographs with professional grade inks on different media types that will not start fading or changing color within a year or two. Using a professional lab means you're getting higher quality prints that you can trust will stand the test of time. This day is special enough and the investment you've made deserves photographic prints several generations can enjoy. No pressure, just my opinion.
How will my images look on my wall?
Once you have chosen your favorites and committed to purchasing prints, we can work through this process together. I can help you choose the right balance of images and size them accordingly using a digital image of the wall in your home where you envision these living. What kind of magic is this you ask? My client portal comes with the ability to create a virtual session that will allow you to see how your prints will look on the wall of your home. I am invested in my artwork and in my clients, so I want it to look perfect wherever you choose to display it.
Do I need an engagement session?
What athlete goes to the big game without a warm up? We need to get to know each other so that you are relaxed with me and in front of the camera. The success of your photos starts here. I want to show up for the big game knowing some of your moves and I want you to have all the moves like Jagger.
Do you have a shot list for weddings?
Oh boy, do I. I've created a handy shot list where you can check off all the formal shots you require from me and list the family members required for each shot. It's just a jumping off point but gives you an easy way to look at and compartmentalize how this will happen on your wedding day. With that in mind, I envision your wedding day as a series of dynamic moments, not just a static list that I hope will help you recreate the day in your mind for the rest of your lives together.
Can other people take photos during my wedding while you do?
Yes, but there are important caveats and I'm not gonna sugarcoat this because you've made an investment on photos and albums that will tell your love story for the rest of your life. I ask that people be respectful. That means, not stepping in front of me and taking photos discreetly like you're sneaking a snapshot of a celebrity by holding the camera/phone close to your body and not in the air or by stepping into the aisle. Nothing ruins a beautiful moment faster than flashes going off while I'm shooting or cameras, iPhones, and iPads held up by guests while the bride is walking down the aisle or at that once in a lifetime moment of the first kiss. I'm happy to share ways to communicate to your guests about the art of discreet in-your-seat photography or that you've decided on a "no technology" portion of the day during the ceremony. I also prefer that formals take place only with the individuals that are required for the shoot. This helps prevent distractions and distracted eyes.
How long will it take to receive my photos?
Weddings: 4 to 8 weeks for the digital gallery to be made available depending on the time of year and package. Typical turnaround is 6 weeks. Full completed package delivery of albums and prints could take up to 12 weeks after your wedding day. Again, this is dependent on the time of year, your availability to approve album proofs, lab turnaround time, and package size.
How do you deliver our images?
All of my clients can sign into the client portal, go to the gallery, and have the portal send a download link that will allow you to download the entire set of images. This same portal allows you to mark your favorites, share on social media, download images, order prints, and send me your favorite images for your album design. Instructions to be provided at the time of your gallery's revealing.
What is required to book me?
Weddings require a non-refundable booking fee and a signed contract to secure a date. The remaining balance is due 60 days prior to your wedding. When you book with me, I close out that date to other potential clients and for this reason, the deposit is non-refundable. The non-refundable deposit is transferable for a new wedding date in the event of a declared State of Emergency or unforeseen circumstances that cause you to cancel your original wedding date. Contingent on my availability and the circumstance surrounding the cancellation.
What are my payment options?
I accept cash, credit cards, PayPal, or personal check. I do offer payment plans to help you pay in time for the big day.
What happens if something happens to you on our wedding day?
First off, you can count on me, I live for this. I'm a member of the Professional Photographers of America (PPA), I'm a real professional, not a no-show. No horror stories here. IF, and that's a big IF, something crazy happened to me, I belong to a large network of professional New England photographers I can call on to get you covered. Not a path I want to walk down ever.
Yeah, no. You didn't answer my question, what do I do now?